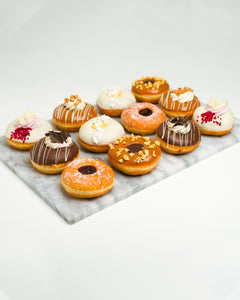 Lemon & White Chocolate
- A puddle donut dipped in white chocolate and filled with a tangy lemon curd and sprinkled with crunchy meringue pieces.
Jammy Bullseye
- A classic yeast donut rolled in sugar and hit with a perfect shot of sticky raspberry jam.
Raspberry & White Chocolate
- A puddle donut dipped in white chocolate and filled with raspberry cream and topped with real raspberry pieces and creamy white chocolate flakes.
Caramel Fudge Crunch
- A puddle donut dipped in luxurious caramel,  with chocolate fudge filling scattered with crunchy honeycomb
Triple Chocolate
- Soft yeast raised puddle dounut, dipped in rich chocolate and drizzled with white chocolate, then piped with a creamy chocolate topping and finished with crunchy flakes of Belgium chocolate.
Caramel Creme
- Puddle donut dipped in luxurious caramel, drizzled with white chocolate and topped with a rosette of caramel cream and finished with a scattering of soft fudge pieces
Serving Suggestion:
Coffee. Donut. Done.  
Portion Sizes:
Each box contains 12 donuts.  
Storage:
Keep Refrigerated and Serve at room temperature.
Use By:
See Printed Best Before Date on the Packet.  
Allergy Advice:
Contains Wheat, Eggs, Milk, Soya, Sulphites
Our products are made in an environment where nuts, peanuts, eggs, milk, soya, sesame, sulphites and gluten are used. For this reason we cannot guarantee they are free from traces of these allergens.  
Delivery & Collection
WE DELIVER FREE
Belfast BT1-BT17, BT27, BT37, Hollywood, Craigavad, Crawfordsburn, Helens Bay, Ballygowan, Comber, Moneyreagh, Hillsborough

There is a minimum order of £20 for delivery.

Our delivery times are normally between 9-3pm however on busy occasions we extend these times to make sure your order will definitely reach you on your chosen date. Unfortunatley we cannot deliver orders for specific times.

Our delivery days are Tues, Thurs & Sat
For Delivery Tues order by Sun 3pm
For Delivery Thurs order by Tue 3pm
For Delivery Sat order by Thurs 3pm
----
COLLECTIONS
Collections available Mon-Sun from FV Food Store South, 343b Lisburn rd, BT97EP.
Collections available Mon-Sat from FV Food Store East, 32 Montgomery Rd, BT6 9HL.
There is no minimum order for collection. All collections must be paid in full.