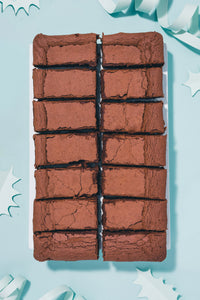 We think these brownies are pretty fudgin' awesome! Chocolately, fudgey goodness, our brownie comes as a whole slab in a foil tray - perfect for heating in the oven and ready for you to portion. Just add ice-cream for a killer dessert!
Serving Suggestion
Pre-heat the oven to a 160 degrees celsius, let the brownies warm for 10-15 minutes or to your liking. Delicious served warm with ice-cream
Portion Sizes
The Brownie FULL SLAB is approximately 20 x 30cm.
14 portions per slab (10x4.28 cm each, the size we use in our cafes) 20 portions (5x6 cm each)
You can cut these in half to make 24 portions (5x5 cm each)
Storage:
Store covered in a cool dry area. Suitable for freezing.
Use By:
Refer to the Best Before date on the package.
Ingredient Declaration & Allergy Advice:
dark chocolate (cocoa mass, sugar, cocoa butter, emulsifier (SOYA lecithin), vanilla extract (GLUTEN), EGG, dark brown sugar (sugar, cane molasses), sugar, butter replacer (vegetable oil (palm, rapeseed), water, emulsifier (e471), natural flavouring, colour (e160a), WHEAT flour (calcium, iron, niacin, thiamine), raising agents (acid calcium phosphate, sodium bicarbonate), golden syrup (partially inverted refiners syrup), cocoa powder, salt
Allergens in BOLD.
WHEAT, EGG, SOYA
Our products are made in an environment where nuts, peanuts, eggs, milk, soya, sesame, sulphites and gluten are used. For this reason we cannot guarantee they are free from traces of these allergens.
Delivery & Collection
WE DELIVER FREE
Belfast BT1-BT17, BT27, BT37, Hollywood, Craigavad, Crawfordsburn, Helens Bay, Ballygowan, Comber, Moneyreagh, Hillsborough

There is a minimum order of £20 for delivery.

Our delivery times are normally between 9-3pm however on busy occasions we extend these times to make sure your order will definitely reach you on your chosen date. Unfortunatley we cannot deliver orders for specific times.

Our delivery days are Tues, Thurs & Sat
For Delivery Tues order by Sun 3pm
For Delivery Thurs order by Tue 3pm
For Delivery Sat order by Thurs 3pm
----
COLLECTIONS
Collections available Mon-Sun from FV Food Store South, 343b Lisburn rd, BT97EP.
Collections available Mon-Sat from FV Food Store East, 32 Montgomery Rd, BT6 9HL.
There is no minimum order for collection. All collections must be paid in full.