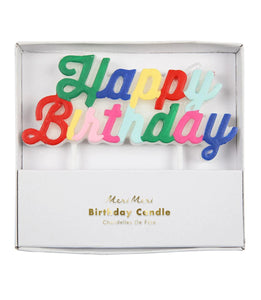 A party isn't really a party if there's no cake and no candles! So make sure your celebration is one to remember with this brilliant multicoloured candle, spelling out Happy Birthday in an elegant curling script. Many happy returns!
Neon print detail
Pack dimensions: 100mm x 115mm x 15mm
SKU: 142219
Delivery & Collection
WE DELIVER FREE
Belfast BT1-BT17, BT27, BT37, Hollywood, Craigavad, Crawfordsburn, Helens Bay, Ballygowan, Comber, Moneyreagh, Hillsborough

There is a minimum order of £20 for delivery.

Our delivery times are normally between 9-3pm however on busy occasions we extend these times to make sure your order will definitely reach you on your chosen date. Unfortunatley we cannot deliver orders for specific times.

Our delivery days are Tues, Thurs & Sat
For Delivery Tues order by Sun 3pm
For Delivery Thurs order by Tue 3pm
For Delivery Sat order by Thurs 3pm
----
COLLECTIONS
Collections available Mon-Sun from FV Food Store South, 343b Lisburn rd, BT97EP.
Collections available Mon-Sat from FV Food Store East, 32 Montgomery Rd, BT6 9HL.
There is no minimum order for collection. All collections must be paid in full.