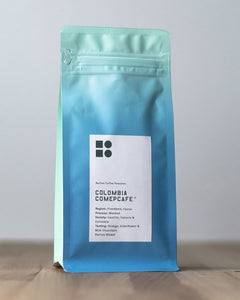 250g (a single origin) Pre-ground for French Press

Heres what Bailies Coffee say about Colombia Compecafe:

With sweet chocolatey fragrance and aromas of elderflower, this coffee has a pleasant citrus acidity with notes of Orange, Elderflower & Milk Chocolate in the cup.

Located in the Andean mountains in the Cauca region, Comepcafe cooperative is democratically led by local farmers and all of them pride themselves in producing really high-quality coffee. Thanks to the support from the cooperative, they have all been able to get the necessary education and equipment to produce specialty coffee. After the harvest, everyone's coffee is cupped and all farmers receive feedback. The best lots of the year are then sent to us.

Location: Piendamó, Cauca
Process: Washed
Varietal: Castillo, Caturra, Colombia
Altitude: 1450 - 1550masl
Awards:
-

Weight:
250g
Storage:
Best within 3 weeks, use within 3 months
Use By:
Best within 3 weeks, use within 3 months

Allergy Advice:
See Ingredients in Bold.
Delivery & Collection
WE DELIVER FREE
Belfast BT1-BT17, BT27, BT37, Hollywood, Craigavad, Crawfordsburn, Helens Bay, Ballygowan, Comber, Moneyreagh, Hillsborough

There is a minimum order of £20 for delivery.

Our delivery times are normally between 9-3pm however on busy occasions we extend these times to make sure your order will definitely reach you on your chosen date. Unfortunatley we cannot deliver orders for specific times.

Our delivery days are Tues, Thurs & Sat
For Delivery Tues order by Sun 3pm
For Delivery Thurs order by Tue 3pm
For Delivery Sat order by Thurs 3pm
----
COLLECTIONS
Collections available Mon-Sun from FV Food Store South, 343b Lisburn rd, BT97EP.
Collections available Mon-Sat from FV Food Store East, 32 Montgomery Rd, BT6 9HL.
There is no minimum order for collection. All collections must be paid in full.