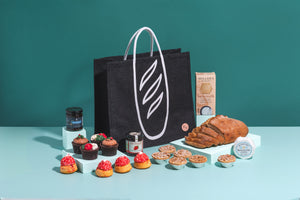 The Mistletoe Christmas Hamper is presented in an FV Food Store Hessian Bag and includes:

French Village Sourdough

French Village Jam & Coconut Santa Hats

French Village Mince Pies

French Village Cupcakes


Erin Grove Jam

Ballylisk Brie

Millers Cheese Crackers

Burren Onion Jam

All Items Are Subject To Availablity And May Be Changed Without Notice.

Any Items That are Used as a Substitute Will Be Equal to or Greater Than The Original Value

To enquire about large corporate gift orders please contact matthew@frenchvillage.com

Storage:
See individual product labels
Use By:
See individual product labels
Allergy Advice:
See individual product labels
Delivery & Collection
WE DELIVER FREE
Belfast BT1-BT17, BT27, BT37, Hollywood, Craigavad, Crawfordsburn, Helens Bay, Ballygowan, Comber, Moneyreagh, Hillsborough

There is a minimum order of £20 for delivery.

Our delivery times are normally between 9-3pm however on busy occasions we extend these times to make sure your order will definitely reach you on your chosen date. Unfortunatley we cannot deliver orders for specific times.

Our delivery days are Tues, Thurs & Sat
For Delivery Tues order by Sun 3pm
For Delivery Thurs order by Tue 3pm
For Delivery Sat order by Thurs 3pm
----
COLLECTIONS
Collections available Mon-Sun from FV Food Store South, 343b Lisburn rd, BT97EP.
Collections available Mon-Sat from FV Food Store East, 32 Montgomery Rd, BT6 9HL.
There is no minimum order for collection. All collections must be paid in full.