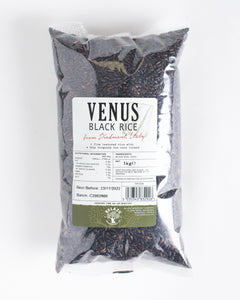 A firm textured rice with a deep burgundy hue once opened.  The Venus of the title refers to the Greek god of love, fertility and beauty because black rice was considered an aphrodisiac by Asian emperors and their courts. This variety was created in 1997 by cross-pollinating an Italian risotto and Asiatic black rice. With a cooking time of 40-50 minutes it has a unique flavour and colour - deep burgundy when cooked - and the liquor can be used to make a separate broth with or without the rice.

Weight:
1kg
Best Before:

See Pack
Delivery & Collection
WE DELIVER FREE
Belfast BT1-BT17, BT27, BT37, Hollywood, Craigavad, Crawfordsburn, Helens Bay, Ballygowan, Comber, Moneyreagh, Hillsborough

There is a minimum order of £20 for delivery.

Our delivery times are normally between 9-3pm however on busy occasions we extend these times to make sure your order will definitely reach you on your chosen date. Unfortunatley we cannot deliver orders for specific times.

Our delivery days are Tues, Thurs & Sat
For Delivery Tues order by Sun 3pm
For Delivery Thurs order by Tue 3pm
For Delivery Sat order by Thurs 3pm
----
COLLECTIONS
Collections available Mon-Sun from FV Food Store South, 343b Lisburn rd, BT97EP.
Collections available Mon-Sat from FV Food Store East, 32 Montgomery Rd, BT6 9HL.
There is no minimum order for collection. All collections must be paid in full.